September 2, 2023
Posted by:

Muhammad Shehzad

Category:

Blogs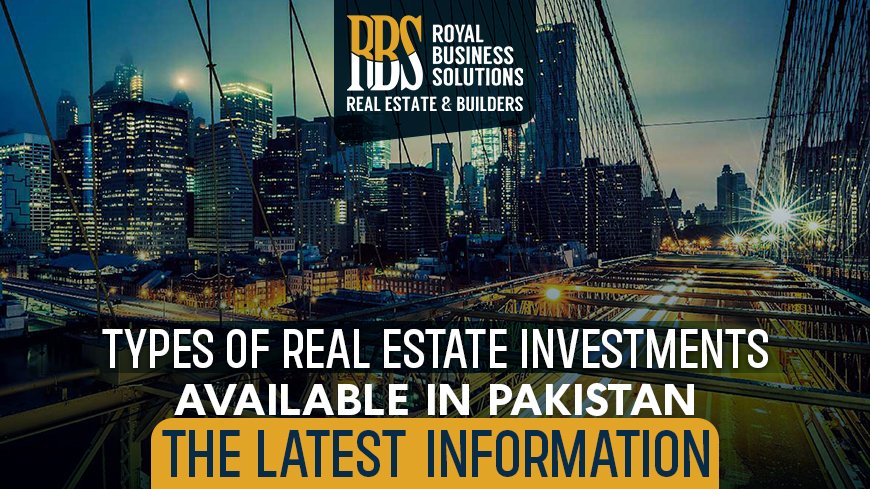 Types of real estate investments available in Pakistan. It brings both domestic and foreign investors. Increased middle-class population, changing demographics, and growing urbanization in the whole country have all encouraged a rise in real estate investments.
Introduction
In Pakistan, real estate investments have historically produced outstanding returns. It is Pakistan's most profitable industry due to its large profits. Additionally, many people consider it to be the ideal investment. Anyone who wants to work in the industry must become familiar with Pakistan's several real estate property types.
The various kinds of real estate investments in Pakistan for 2023 will be covered in this blog. We'll go over the particulars and strategies for making money from these investments. If you are looking for the latest plot prices in Islamabad, you should visit the Capital Smart City Payment Plan 2023.
Real Estate Investment for Beginners in Pakistan
In Pakistan, an excellent strategy to raise your income and profit includes real estate investments. The following things need to be kept in mind when you want to start the business:
The initial step is to invest at very low risk.
Analyze the value of the property and the local markets.
Start with a small amount of investment.
Spending should never exceed your budget.
Invest in the more expensive real estate in the area where you are making the investment.
The property in which you start to invest is residential or commercial.
Analyze your property to see whether it should be rented or sold.
Sell your property while demand is at its peak.
Types of Real Estate Investments- Latest Information
Real estate investment involves more than just purchasing assets and reselling them at a profit. There are numerous ways to get into the real estate market, however, the following methods are most common in Pakistan:
There are different types of real estate investments in Pakistan, which are:
Residential properties
Commercial properties
Industrial properties
Retail Properties
Mixed-use properties
REITs – (Real Estate Investment Trusts)
Looking for ideas for real estate passive income in 2023? Check out the link below:
Latest And Most Useful Real Estate Passive Income Ideas
1. Residential Properties
Pakistan has a variety of residential property kinds depending on a person's needs and financial position. They only need to purchase or rent a property. The following categories apply to residential properties:
Residential plots
Houses
Apartments
Residential Plots
Residential plots are a specific kind of real estate investment that will provide a number of benefits. This land can be bought by the buyer, who can subsequently sell it for more profits. Although, the owner might receive a monthly income by renting out agricultural property.
Houses
Homes will gain from an investment aspect as well. Several possibilities exist for a buyer to profit from a house, including:
To make a monthly income, buyers might rent out their properties.
When the price of real estate increases, buyers can sell it.
Residential Apartments
In Pakistan, apartments generate great real estate investments. Renting out the apartment brings extra revenue for the owner. Finally, the location, floor, and amenities offered by the apartment will affect the rent.
2. Commercial Properties
In Pakistan, commercial properties make the best real estate investments. Also, the value of these assets will rise over time. A client should invest in commercial buildings that have a strong budget. However, these properties are divided into a number of categories, including:
Plots (Commercial)
Commercial plaza or building
Shops (Commercial)
Commercial plots
The best investment will surely be made on commercial properties. A commercial plot can be bought by the client, who can then resell it for greater profit.
Commercial Plazas and shops
Commercial plazas are the most profitable real estate ventures in Pakistan. Although, plaza can raise profits in a variety of ways, including:
The owner can rent it to others so they can start their own companies.
Additionally, there will be retail establishments for a range of businesses.
Commercial stores that rent will generate a higher profit. 
3. Industrial Properties 
Another well-liked category of real estate investment is industrial assets. Products for the consumer market are often developed, manufactured, packaged, and also stored using these features. In addition to agricultural land, there may be industrial sites utilized for product distribution and research.
The following is the best example of industrial property:
Factories, warehouses, and production facilities
These characteristics boost a company's worth and offer a high rate of return
4. Retail Properties
Some of the best real estate investments in Pakistan are retail establishments. These properties increase their value and offer a profit. Retail properties include:
5. Real Estate Investment Trusts (REITs)
REITs are an abbreviation for real estate investment trusts. Due to financial constraints, those who are unable to invest alone might attempt it with a partner. Moreover, profits are split among all joint partners after the investment.
There are two different kinds of REITs in Pakistan:
Furthermore, if you are looking for practical guidance on optimizing productivity in real estate check out the How To Be Successful In Real Estate Operations And Productivity In Pakistan – Everything You Need To Know?
Conclusion
Real Estate Investments is considering to be a great opportunity to start a new business in Pakistan. Real estate also carries a modest loss potential. However, investors should start their new business with a minimal investment. They eventually have the money to buy their own homes. Due to their locations and perspective, all of these properties make excellent investments. In addition, investing in these properties will boost investors' profits.