June 24, 2023
Posted by:

Muhammad Shehzad

Category:

Blogs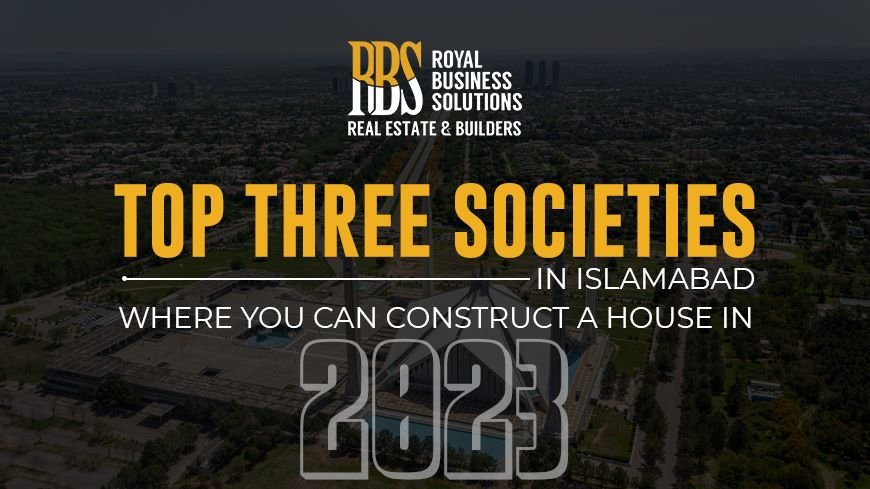 Introduction
When it comes to building your dream house in Islamabad, choosing the right society is of utmost importance. The city offers a wide range of housing societies, each with its own unique features and advantages. In this blog post, we will extensively explore the top 3 societies in Islamabad where you can construct your dream house in 2023. These societies are Nova City Islamabad, Gulberg Greens Islamabad, and Capital Smart City. Let's delve into the details and discover the features, benefits, and unique selling points they offer, along with information about their builders and recent inaugurations.
I. Nova City Islamabad: Where Elegance Meets Convenience
Nova City Islamabad, developed by Nova City Developers, is one of the Top 3 Societies we are going to talk about. It is a prestigious housing society known for its luxurious lifestyle and state-of-the-art infrastructure. The society was recently inaugurated by prominent government officials, marking the beginning of a new era in modern living. Let's explore the key features that make it an ideal choice for constructing your dream house:
Prime Location:
Situated near the Islamabad International Airport, Nova City offers exceptional connectivity and accessibility for frequent travelers. The society's location ensures convenience for residents, and its proximity to major commercial areas makes it an attractive option for professionals and business travelers alike.
Modern Amenities:
Nova City provides an extensive range of modern amenities that cater to the needs and desires of its residents. These amenities include well-maintained parks, top-tier educational institutions, world-class healthcare facilities, shopping malls, entertainment centers, and sports complexes. The society aims to create a self-sustaining community that offers a comfortable and convenient lifestyle.
Sustainable Living:
Nova City emphasizes sustainability by incorporating eco-friendly practices into its infrastructure. This includes the development of green spaces, energy-efficient systems, waste management initiatives, and the use of renewable energy sources. The society's commitment to sustainable living ensures a healthier environment for residents and promotes a greener future.
II. Gulberg Greens Islamabad: A Serene Haven Amidst Nature
Gulberg Greens Islamabad, developed by Intelligence Bureau Employees Cooperative Housing Society (IBECHS), is another one of the Top 3 Societies we are going to talk about. It is renowned for its serene and picturesque surroundings that offer a perfect blend of nature and modern living. The society's recent inauguration was attended by esteemed members of the society, marking the realization of a vision. Let's explore why it stands out as a top choice for constructing your dream house:
Green Surroundings:
Gulberg Greens is characterized by its lush green landscapes, scenic views, and extensive plantation. The society's emphasis on preserving the natural beauty of the area creates a refreshing and tranquil environment, providing residents with a serene haven away from the city's hustle and bustle.
High-end Facilities:
Gulberg Greens offers a range of high-end facilities that enhance the quality of life for its residents. These include a world-class golf course, community centers, sports complexes, commercial areas, and recreational spaces. The society aims to provide a luxurious and convenient lifestyle where residents can indulge in their passions and enjoy leisure activities within the community.
Gated Community:
Gulberg Greens provides a secure and gated community, ensuring the safety and peace of mind for residents and their families. The society incorporates 24/7 surveillance systems, trained security personnel, and strict access control measures, creating a safe and secure living environment.
Are you looking for a profitable society to invest in Lahore? Then make sure to check out Lahore Smart City.
III. Capital Smart City: A Smart Choice for Modern Living
Capital Smart City, developed by Future Development Holdings (FDH), is the last society we are going to talk about in our list of Top 3 Societies. It is a futuristic and smart housing society that offers a blend of modern technology and sustainable living. The society's recent inauguration was a grand event attended by key stakeholders, symbolizing the commencement of a visionary project. Let's explore why it ranks among the top societies in Islamabad:
Smart Infrastructure:
Capital Smart City prides itself on its smart infrastructure, which leverages cutting-edge technology to provide residents with a seamless living experience. The society incorporates smart metering, automated systems, high-speed internet connectivity, and smart home features, enabling residents to control various aspects of their homes with ease.
Mega Development:
Capital Smart City is a mega development project that aims to create a self-contained city within Islamabad. The society includes business districts, educational institutions, healthcare facilities, entertainment zones, and commercial areas. This comprehensive development ensures that residents have access to all essential amenities and services within close proximity, minimizing the need for long commutes.
Read: CDA-DWP Approves PC-1 of Baghe-e-Dastoor & Multiple New Bazaars
Eco-Friendly Approach:
Capital Smart City places a strong emphasis on sustainability and eco-friendly practices. The society incorporates green initiatives such as solar power systems, water conservation practices, recycling programs, and green spaces. These initiatives not only promote environmental consciousness but also contribute to a healthier and more sustainable living environment.
Conclusion
When it comes to constructing your dream house in Islamabad, choosing the right society is crucial. Nova City Islamabad, Gulberg Greens Islamabad, and Capital Smart City stand out as top choices, each offering unique features, benefits, and opportunities for residents. These societies have been developed by renowned builders and were recently inaugurated, marking significant milestones in the real estate sector. Consider your preferences, priorities, and budget when making a decision, and consult with reliable real estate agents or developers to ensure a smooth and successful house construction process. With the right choice of society and careful planning, you can turn your dream house into a reality in one of these remarkable societies in Islamabad.
Moreover, to stay informed about the latest developments regarding 'Top Three Societies in Islamabad to Construct Your Dream House in 2023', we encourage you to stay connected with Royal Business Solutions, your trusted source for timely updates and valuable insights.