June 1, 2023
Posted by:

Muhammad Shehzad

Category:

RBS News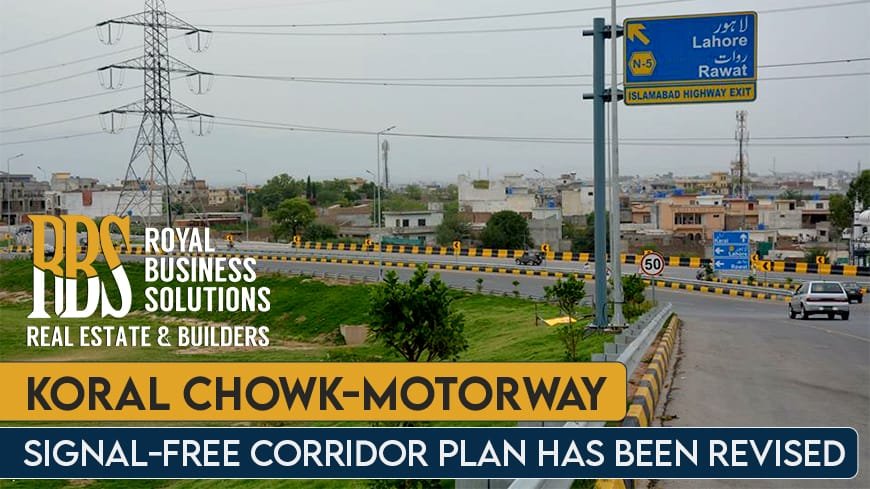 According to the news sources, the Punjab government has approved a budget of PKR 8 billion for the revised plan of the Koral Chowk-Motorway Chowk signal-free corridor. This project aims to create a 22-kilometer-long corridor in Pindi .It will significantly reduce travel time between Islamabad International Airport (IIA) and the motorway.
Transforming Rawalpindi's Commute with a Signal-Free Corridor
The provincial government is set to allocate PKR 8 billion to the Rawalpindi Development Authority (RDA) for the signal-free corridor project. However, they will release this funding after the completion of the feasibility study. The RDA has already surveyed the area and has finalized the initial plan. The authorities have scheduled the feasibility study to take place in July.
Furthermore, the underpasses will be built on the Mall in front of the Pearl Continental Hotel, General Headquarters (GHQ) Chowk. Also, they will construct underpasses at General Post Office Chowk and Military Hospital Chowk. Besides this, they will build a flyover at Ammar Chowk and Qasim Market.
Enhancing Connectivity, Reducing Travel Time
At present, it takes over an hour to travel from Kutchery Chowk and Nur Khan Airbase to Peshawar Road. However, upon the completion of the signal-free corridor, this travel time will be just 20 minutes. Cantonment authorities plan public transport operation from Saddar to the Motorway and the IIA. Also, this project will commence after the completion of signal-free corridor project in Pindi.
For affordable housing options, you can find perfect options by checking Lahore Smart City .
An underpass on Murree Road in front of Liaquat Bagh would be built, according to RDA Director General Anwar Jappa, to eliminate signals at Liaquat Bagh Chowk. Furthermore, the RDA created the initial plan and forwarded it to the Punjab government for final approval.
For further updates on 'Koral Chowk-Motorway Chowk signal-free corridor plan has been revised', stay connected to Royal Business Solutions.