April 18, 2020
Posted by:

Muhammad Shehzad

Categories:

Blogs, RBS News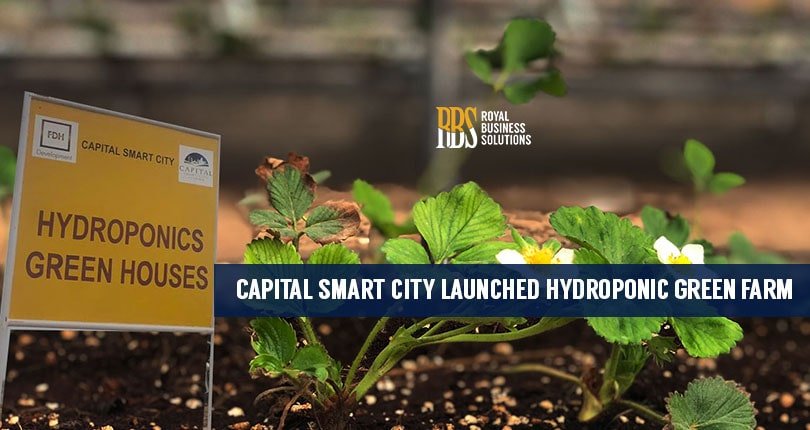 Capital Smart City is a project that is leading the Real Estate industry of Pakistan with innovative ideas. It would not be wrong if we say that it is introducing infrastructures that is ahead from time. One example is launch of Hydroponic Farms in Capital Smart City. It is a smartest way of farming. In fact, it is future of farming all over the world.
In this blog, we will have an insight about Hydroponic Farms in Capital Smart City and smart approach towards it. But, first of all let's have a look what is hydroponic farming
What is Hydroponic Farm?
Hydroponic is consisted of 2 words, "Hydro" and "Ponic". The word hydro means water. While Ponic roots back to Greek word, ponein meaning toil. In short, Hydroponic farming means growing soil-less plants using water. It is an advance form of farming that eliminates the use of soil. Plants are made to grow in formulated nutrient solution. Fertilizers are mixed in water at certain level to keep plants grow.
Hydroponic farming is an Urban and Smart way of farming. It is a part of urban horticulture and urban agriculture as well. You just have to provide optimal environment along with necessary nutrients while maintain Ph level of water.
Smart Farming in Capital Smart City
Capital Smart City is the pioneer of establishing hydroponic farms in Pakistan. Along with that, it has also introduced certain other things that are never seen before in any Real Estate project. For example, Smart Houses, Districts based Master Plan, Smart City features and many other introduced by them.
Since, it has extreme focus towards sustainable development that ensures sustainable future. So, the establishment of these Smart Farms is a vital step towards sustainable vision. As it particularly take advantage of renewable resources to secure things for the future generation. Keeping in view the scarcity of water in the region, Smart Farms are best solution. As it uses only 10% water as compared to conventional farming.
In addition, it adequately forms a bridge between fruit and vegetable consumption and its production. The management aims to fulfill the consumption demands within the society despite of importing it from foreign markets.