May 27, 2023
Posted by:

Muhammad Shehzad

Category:

Blogs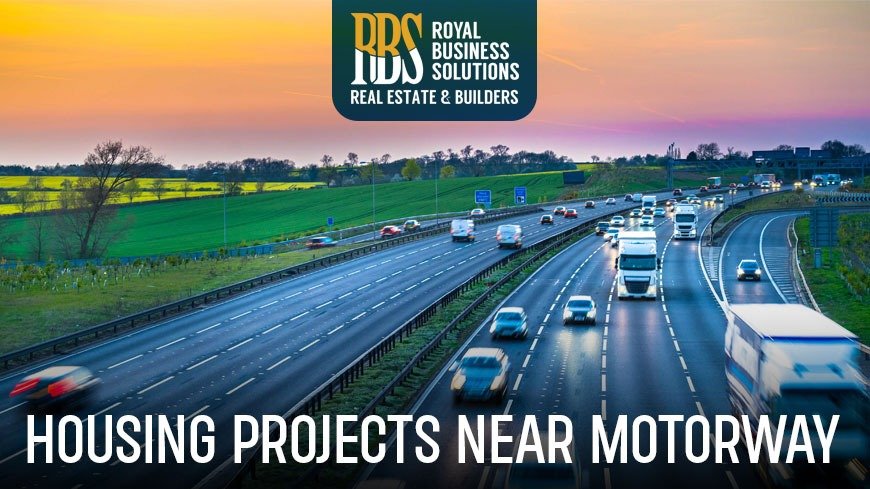 The enthusiasm and outlook for real estate in Pakistan have altered as a result of development projects for housing societies and beautiful communities with sizable housing lots. As a result, each residential society is far more concerned with taking care of its own needs. That is done to ensure a good level of living. Additionally, there are a few spectacular amenities that are lavish, roomy, and posh. This blog will highlights the five housing projects for sale near the beautiful motorway.
Currently, extravagant designs and top-notch engineering are just a few characteristics that distinguish luxury homes in housing societies. For instance, amenities like corporate bays, exercise centers, etc. Consequently, the benefits that are necessary for luxurious living are provided. Improving the tenant's comfort as a result. However, the location of housing societies is important to its development.
Housing Projects near the Beautiful Motorway
New Islamabad International Airport has become a topic of conversation in the press ever since it inaugurated. Most importantly, a lot of assumptions have been made about how it would affect real estate. Therefore, the progress of lifestyle, which will make life more beneficial for the inhabitants, is the motivation for this eagerness.
Importantly, real estate prices in the nearby societies had a significant increase before the opening of the new Islamabad airport. However, prices didn't increase more following the inauguration. The evident cause of this flat trend was hence overpricing because an increase had been anticipated earlier. There will be a new international airport in Islamabad. And the neighborhood will develop into a new center for both business and residence. Therefore, there is a need for more residential facilities. The vicinity of the airport is about to emerge as the center of business. The need for residential facilities will therefore increase.
Here are the five housing projects for sale near the beautiful motorway.
Capital Smart City
Smart Capital City Actually, Pakistan's first Smart city in Islamabad. Thus, it is the fourth smart city in Asia and the 23rd smart city overall. Additionally, it offers residential properties, but its commercial plots in Capital Smart City are perfect for making a profitable investment in the future. It is also the most alluring housing project close to Islamabad's new airport.
Read more about Capital Smart City Islamabad
Eighteen Islamabad
The goal of the exclusive real estate development eighteen is to represent the pinnacle of luxurious living in Islamabad. The Eighteen Islamabad is a masterpiece in the making. First of all, it is a brand-new housing society that Ora Developers, Saif Group, and Kohistan Builders & Developers have established in Islamabad. Second, the goal of this creative endeavor is to introduce Pakistan to the most modern international standards of living.
The following are the features of Eighteen Islamabad project:
Modern architecture
Gated community, safe as well as secure environment
Front Patrol pump
Majestic golf courses
Top-notch educational institutes
Properly designed parking spaces
Availability of all civic amenities
Collaboration with international schools
Jazz tower will also be there
Grand Mosque
Dedicated green spaces and park
All these amenities are also offering in Nova City Islamabad housing society.
Top City 1
One of the incredible projects in the capital is Top City Islamabad. Additionally, it offers the residents a futuristic and contemporary lifestyle. The project was started in 2012, but it is now expanding to explode in terms of investment. Moreover, it is located at the M-1 and M-2 motorway a junction on the southern side of the Kashmir route. In a nutshell, it provides the best amenities and location.
Mivida City Islamabad
The first eco-sustainable city in Pakistan is Mivida City Islamabad. The company behind it is Khanial Builders. Most importantly, the business is well known for creating first-rate living spaces. In addition, they do amazing work everywhere. Similar to Mivida City, it is a housing society with a master plan. It will shortly be launched by the authorities in a prime area of Islamabad. With all the residential amenities integrated it is a contemporary housing society. Additionally, its location is just superb. Lahore Smart City location is also ideal to live.
Blue World City
This is an emerging housing project next to the Rawalpindi Ring Road project. In fact, Shan and the Blue group of enterprises sponsored the project. In addition, Blue World City is close to the Chakri Interchange on the Lahore-Islamabad Motorway M2 and is located on the important Chakri Road. It is also one of the communities that is close to the cities of Islamabad, Rawalpindi, and the Islamabad Airport. In short, it is an amazing housing community with amazing surroundings.