September 26, 2020
Posted by:

Muhammad Shehzad

Category:

RBS News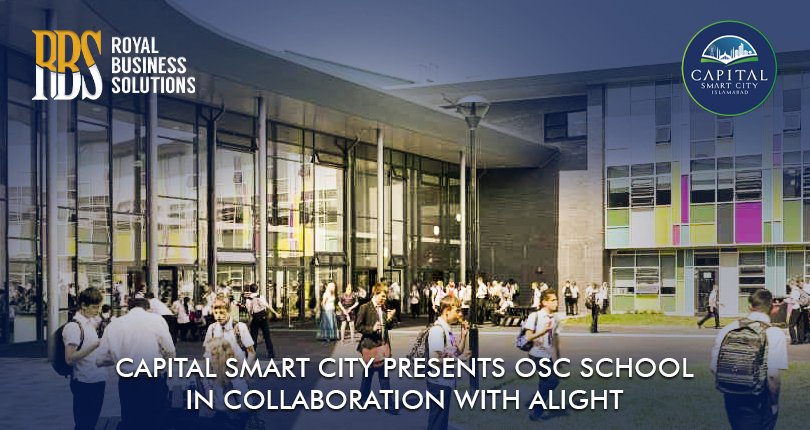 Capital Smart City committed to raising the bar of lifestyle. For that purpose, the development, as well as the management team of Capital Smart City, determined to bring in outclass ventures. It has a keen focus on the delivery of exceptional and quality educational institutes. It has recently signed an MOU with ALIGHT to open Out of School (OSC School) for children.
Mr. Zahid Rafiq, Chairman FDHL, and Dr. Tariq Cheema, CEO ALIGHT inked an MOU. This school will be built under the supervision of the famous  Zaha Hadeed Architects.
MOU Signing Ceremony
The ceremony took place at the FDHL head office. Mr. Zahid Rafiq, Group Chairman of Future Development Holdings, said that this project envisions guaranteeing the provision of a modern education system to marginalized strata of the society. He said, "This partnership will be an effort to uplift and dignify children through providing quality learning free of cost".
OSC School Significance
As compared to the whole world, Pakistan stands on the 2nd rank where a large portion of the population can't go to educational institutes due to a number of reasons. Meanwhile, the major one is that they can't afford school expenditures and fees. In total, it makes 10% of the total population.
"The best way to confront this gigantic challenge is to devise solutions through aligning synergies among public, private, and philanthropic sectors," says Dr. Tariq H. Cheema, Country Representative of Alight Pakistan.
About Zaha Hadid Architects
Iraqi-British architect is a firm owned by Zaha Hadid is a world-renowned architect. Zaha Haded Architects. She was the first woman to receive the Pritzker Architecture Prize, in 2004. She received the UK's most prestigious architectural award, the Stirling Prize, in 2010 and 2011.
Zah Haddid Architects is a British-based firm founded by Zaha Hadid. All the buildings and infrastructure designed under the expert supervision of this firm are entirely unique and innovative in terms of Master Plan and Designing.