December 10, 2022
Posted by:

Muhammad Shehzad

Category:

Blogs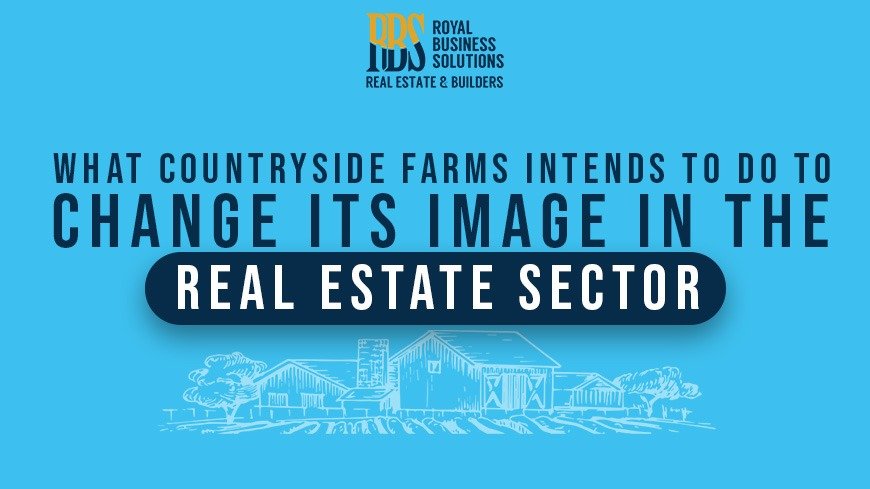 Countryside Farms Islamabad is the most revolutionary farmhouse project in the world of real estate. It seeks to offer a luxurious setting with natural surroundings that include fresh air, vegetation, and farming. Furthermore, the project's main goal is to provide its people with a serene and, close-to-nature lifestyle. In this blog, we are going to discuss what Countryside Farms intends to do to change its image in the real estate sector.
Among the other projects, Countryside Farms stands out for offering top-notch facilities including a 350 Kanal Club, an artificial lake, an independent living center, and organic stores. It offers a sizable business club in addition to all the latest facilities. The society's notable features include a gated community, medical clinics, solar power systems, and round-the-clock security systems. Furthermore, it will have farms that produce organic fruits and vegetables, dairy milk, farm chicks, and fresh, biological meat. The project will undoubtedly improve your quality of life with its theme-based blocks and environmentally friendly setting.
How Countryside Farms is changing its image in the real estate sector?
New Real estate projects are located in an urban setting. While Countryside Farms focuses to provide its residents with a serene countryside setting with all the luxurious features that one can think of. It is a complete package as you get to enjoy the natural environment that we all wish to live in. Furthermore, you can enjoy state-of-the-art features which no other project has offered before. The following is the list of features that explain what Countryside Farms intends to do to change its image in real estate sector.
1. Theme-Based Blocks
Five theme-based blocks make up Countryside Farms, with lavish and exotic living standards. Each block will have its own distinctive characteristics based on the distinct theme. These are the blocks:
Countryside Farms Winchester Block
The Winchester Block in Countryside Farms has a shooting theme. Kids may have fun while maintaining their physical and mental health in this block's specific gaming area. It is therefore the ideal site for extracurricular activities. Additionally, there are huge green parks where families can have good times.
Countryside Farms Amazon Block
The Amazon Block of Countryside Farms is decorated to replicate the rainforest of the Amazon. You will have a wonderful nature experience there. For the locals, the full forest theme would be enjoyable.
Countryside Farms Venus Block
The Venus Block of Countryside Farms is themed like an artificial lake. In the block's natural setting, you may relax and soak in the beauty of aquatic life while being far from the rush and noise of the city. In addition, it is a special spot for fishing where a variety of species can be found.
Countryside Farms Polo Block
The Polo Block at Countryside Farms is dedicated to the game of polo. Emperors and monarchs play the game, and this block aims to convey the same luxury. This place offers a magnificent setting.
Countryside Farms Royal Block
Golf is the central focus of Countryside Farms' Royal Block. On 110 Kanal, it has a beautiful golf course that is every golfer's desire. Moreover, it is a fantastic location for outdoor activities. The Royal Block also conforms with all the global requirements.
2.     An international-level Business Club
Countryside Farms' business clubs, which cover 350 Kanal, are its most remarkable and luxurious feature. In the twin cities, it provides the most premium amenities. In order to take advantage of the most incredible discounts, you may also get a yearly or lifetime membership. This club aspires to improve your quality of life and makes the project stand out in the real estate sector. These are the activities that the club provides:
A business club is featuring a variety of distinctive amenities, such as:
Restaurants
Gym
Tea bar coffee
A swimming pool
Sporting facility with table tennis
Snooker area
Squash court
Badminton Court
Basketball Court
Bowling Alley
A 3D gaming area
Automobile racing facilities
Community Centre
Futuristic Master Plan
The society offers top-notch features at reasonable rates. People searching for successful investments will find the Countryside Farms Location and master plan to be both unique and the best area to make a purchase. Additionally, this project has room for farmhouses of 4, 5, and 10 Kanal. The society, which covers more than 3500 Kanal, is the most luxurious in the twin cities. Two significant entrances, 50 feet and 150 feet wide are available to the community from Basali Road and Chakbeli Road, respectively. Only 0.5 kilometers separate the new Ring Road Interchange from the 150-foot main boulevard. Other boulevards will have a roadway that is 50 feet wide and a width of 90 to 120 feet. Additionally, every boulevard, street, and the road will be equipped with smart technology.
3.     Outstanding Amenities
At Countryside Farms, there are a lot of state-of-the-art amenities that are unmatched by any other community. The following are the outstanding amenities that tell Countryside Farms is changing its image in the real estate sector.
Organic shop
Countryside Farms offers its residents an amazing deal. Meat, vegetables, fruits, milk, eggs, and any other organic product produced at the farmhouse can be sold at the society's organic stores. By doing this, the locals might make good money and the community would have access to fresh organic foods.
Birds Aviary
Countryside Farms offers a birds' aviary where you may enjoy the lovely chirping of exotic birds in addition to other remarkable concepts. Your leisure might be better this way, and you may feel more connected to nature. The aviary will draw birds from all over the world, transforming the surrounding countryside into a stunning setting.
Archery Area
Countryside Farms has also allocated a big area for archery and shooting in addition to other outdoor activities. For individuals who want to engage in outdoor activities, it is the perfect spot.
Safari Zoo
By officially signing an MOU with a South African company, Safari Zoo was given 100 Kanal of land. It would provide the incredible impression of being in a vast, open jungle where different animals may walk freely in their natural habitat.
Water Parks
Countryside Farms is also introducing the idea of water parks in collaboration with a Turkish company. The park will be a pleasant place with water play features like swimming pools, water slides, water playgrounds, and lazy rivers where you may float and bathe calmly.
Grand Jamia Masjid
The Malik Zahoor Mosque is Countryside Farms' finest architectural feat. It has an exceptional interior that brilliantly illustrates the combination of Islamic and Mughal architectural styles. Additionally, the mosque has a capacity of around 80,000 people at once. Additionally, it has central air conditioning and offers a wonderful spiritual experience.
Gym
To encourage inhabitants of Countryside Farms to lead active, healthy lifestyles, a large space has been set aside for an open gym. For the convenience of the residents, the gym will also include the newest equipment.
Community Center
Residents of the society have access to a huge community center where they may gather for group activities, social support, public information, as well as other uses. Furthermore, it is highly decorated and managed.
Central Library
Additionally, the group includes a Central Library with a vast collection of nearly 50,000 books. It also features a special Islamic Community Center where Muslims may assemble and study.
Independent Living Centre
For those with disabilities, the society also provides a center for independent living. The first housing community to provide physically disabled persons a better quality of life is Countryside Farms. Through the use of contemporary technology, handicapped people can lead normal life. People with disabilities would feel empowered this way.
4.     World-class Designers
Countryside Farms Rawalpindi will not be another average housing society. It intends to stand out among the real estate sector as it aims to catch the international audience. For this purpose, the developers have hired a world-class Singaporean architectural firm 'Surbana Jurong' With experience in urban architecture, civil engineering, and sustainable infrastructure, it is currently one of the top companies in Asia. With more than 120 offices worldwide, it employs about 16,000 people worldwide. Their team includes expert designers, architects, urban planners, engineers, and other professionals.
The company's main objective is to improve the community's natural assets and transform its citizens' quality of life. The project's fundamental idea is the rural setting, which will be a progressive place for locals to live, work, and prosper.
Conclusion
In this blog, we explored what Countryside Farms intends to do to change its image in the real estate sector. It is a luxurious housing project that is being developed with the intention of providing its residents with an outstanding lifestyle, first-rate amenities, and a better way of life away from the bustle and noise of the city. In addition, the society is a heaven that blends the splendor of nature with a risk-free way of life. The architects are putting forth a lot of effort to design a place that satisfies everyone's needs. You may discover all of life's greatest joys in this society. Also, Countryside Farms Payment Plan offers the lowest rates with a significant potential return on investment.