June 14, 2023
Posted by:

Muhammad Shehzad

Category:

Blogs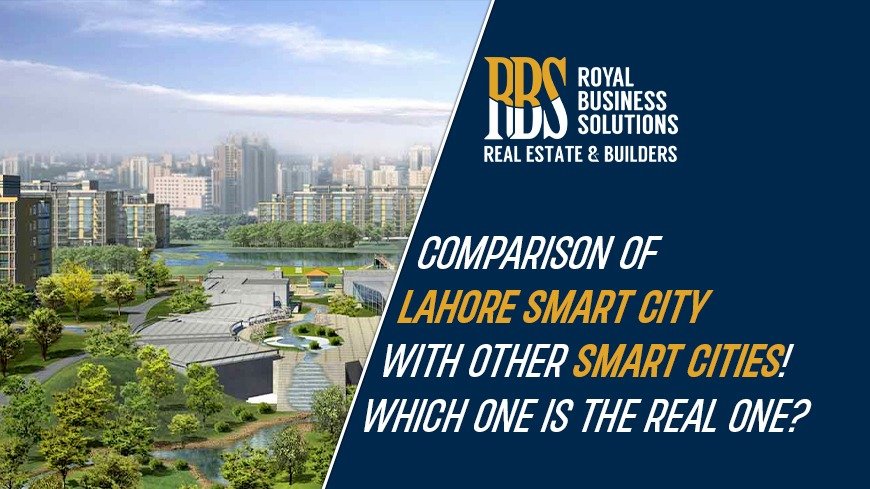 Introduction
In recent years, the concept of smart cities has gained immense popularity, with numerous developments emerging across the globe. Lahore Smart City, one of Pakistan's most anticipated projects, has been making waves in the real estate market.
As investors and residents assess their options, it's vital to compare this project with other smart city initiatives. In this blog, we will conduct an in-depth comparison. We will also analyze the crucial factors that distinguish this City as the top choice.
Vision and Concept Of Lahore Smart City
Lahore Smart City is in line with its futuristic vision of sustainable urban development. Hence it prioritizes the creation of an intelligent and eco-friendly living environment for its residents. This ambitious project seamlessly integrates advanced technologies, efficient infrastructure, and smart solutions, all aimed at enhancing the overall quality of life within the city.
The vision of this City is aligned with the global trends in smart city development, ensuring its relevance and appeal in the long run.
Location Advantage
Situated in the prime location of Lahore, this City enjoys proximity to major transportation networks, educational institutions, healthcare facilities, and commercial hubs. This strategic location ensures easy accessibility and convenience for residents. Other smart cities may offer attractive features, but Lahore Smart City's central location gives it a competitive edge. The well-connected location opens up opportunities for business, education, and recreation, making it an ideal choice for investors and residents alike.
Infrastructure and Amenities of Lahore Smart City
This project boasts state-of-the-art infrastructure, including modern road networks, reliable utilities, and efficient waste management systems. Furthermore the project aims to offer residents a seamless living experience with various amenities. These include parks, community centers, educational institutions, healthcare facilities, and recreational spaces. The developers prioritize essential services and recreational options to foster a sustainable and enjoyable living environment.
Technological Advancements
By prioritizing resident-centric technological advancements, this project harnesses cutting-edge technologies to enhance security, connectivity, and sustainability. Through smart surveillance, intelligent traffic management, high-speed internet, and smart metering, the project integrates advanced solutions to meet residents' needs.
The City focuses on creating a digitally integrated community that enhances the quality of life and improves overall efficiency. The integration of technology in various aspects of daily life sets this project apart from other developments.
Developer's Track Record
The developer of this exceptional project, Future Development Holdings Pvt. Ltd., has an exceptional track record in delivering successful property projects across Pakistan. Their commitment to quality, timely completion, and customer satisfaction has earned them a reputation as a reliable and trustworthy developer. It is essential to consider the developer's expertise and experience when comparing smart city projects. The project benefits from a proven track record, ensuring efficient and high-standard execution.
Do read more about this revolutionary project, make sure to check out: Lahore Smart City-A New Chapter In The Lahore Real Estate Sector
Comparison with Other Smart Cities
Now let's take a closer look at how Lahore Smart City compares to other smart city projects in Pakistan.
Islamabad Smart City
Both Lahore Smart City and Islamabad Smart City are highly anticipated developments, targeting different regions in Pakistan. While it is located in Lahore, Islamabad Smart City is situated in the federal capital. Both projects aim to offer smart and sustainable living environments, incorporating advanced technologies and amenities. However, Lahore Smart City's central location in Lahore, a major cultural and commercial hub, provides an advantage in terms of accessibility and proximity to various amenities. Additionally, Lahore's vibrant atmosphere and diverse economic opportunities make it an attractive choice for investors and residents.
Gwadar Smart City
Gwadar Smart City, located in the port city of Gwadar, holds immense potential for economic growth and investment opportunities.
It aims to transform the city into a modern hub. On the other hand, Lahore Smart City has an advantage with its established infrastructure in Lahore, offering more amenities, education, and healthcare accessibility.
DHA Smart City
Lahore Smart City and DHA Smart City are two prominent projects catering to different segments of the market. Lahore Smart City aims to provide a sustainable and technologically advanced living experience. On the other side, DHA Smart City focuses on offering a luxurious lifestyle within the framework of a smart city. While both projects offer impressive amenities and infrastructure, Lahore Smart City's central location and the developer's track record contribute to its appeal. Lahore Smart City's commitment to sustainability and connectivity, combined with its affordability, positions it as a more accessible option for a wider range of investors and residents.
Conclusion
In conclusion, Lahore Smart City emerges as the real deal when compared to other smart city projects. With its visionary approach, prime location, top-notch infrastructure, advanced technologies, and reputable developer, this City offers a unique and unparalleled living experience. Additionally, as the project progresses and reaches completion, it is poised to redefine urban living in Pakistan, setting new standards for sustainable and smart cities.
In order to stay informed regarding 'Unlocking the Secrets: Is Lahore Smart City the Real Deal? A Riveting Comparison with Other Smart Cities!', we encourage you to stay connected with Royal Business Solutions, your trusted source for timely updates and valuable insights.