September 21, 2022
Posted by:

Talib Chohan

Category:

Blogs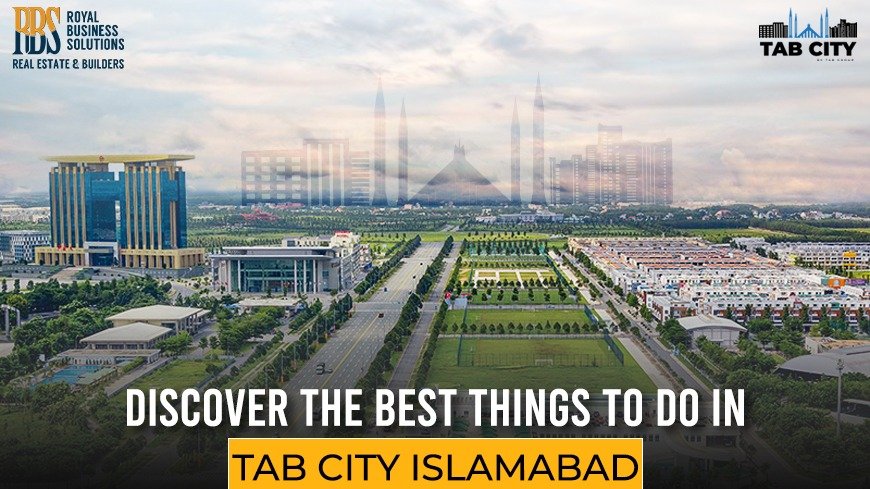 Tab City Rawalpindi is an upcoming residential project that has already captured the real estate market. The project aims to provide sustainable residency for the people and that too at an affordable price. The luxurious society has already caught the attention of investors due to its distinctive features at the most reasonable price. The prices are expected to hike exponentially in the near future. Hence, it is the best time to avail this investment opportunity. The market is anticipating that project is going to be one of the most successful projects for twin cities.
Developers of Tab City
The project is being developed by Tab Builders which is a real estate corporation that deals in residential and commercial real estate ventures. The company was established in 2020 and it is rapidly emerging. The team is led by the Retired. Col. Taimur Sultan Awan, Mr. Ali and Ahmed Bilal Malik.
Tab Builders is a growing company, which has also launched the project TAB 10, which is a high-rise building project in Faisal Margalla City Islamabad. The project is expected to be delivered in 2023.
The team is working hard to provide exceptional housing society to the residents of Rawalpindi. In addition to this, the motto of developers is to create an enhanced living experience for the residents. Also, the company is conforming to international real estate policies like Monthly rentals in order to deliver the best experience to the clients.
Location of Tab City Rawalpindi
The location of any housing society decides its market worth. Tab City Rawalpindi is located at the prime location on the Main Grand Trunk Road and Dhoke Khariyaan, adjacent to T-Chowk in Rawat, Rawalpindi. It is situated just close to Rawat Police Station. It is just at a few minutes' drive from Rawalpindi/Islamabad. Moreover, Ring Road Rawalpindi Interchange named, Ring Road Rawalpindi is under construction nearby which will provide easy access to society. The location is far from the hustle of the main city and still carries all major landmarks in the vicinity.
It surrounds a serene environment and carries a beautiful landscape. Numerous residential societies and commercial centres are also present in the neighbourhood. Moreover, projects like DHA Islamabad and Bahria Town Rawalpindi are also present in close vicinity to the project. The project has easy access to the following areas:
3 minutes' drive from Dhoke Khaariyan
38 minutes drive from the Institute of Space Technology
A 7-minute drive from Channi Alam Sher
15 minutes drive from Saagri
26 minutes drive from Saddar Rawalpindi
18 minutes drive from Giga Mall
40 minutes drive from Rawat Chakbeli Road
A 7-minute drive from Mandra Toll Plaza
32 minutes drive from Capital University
25 minutes drive from Islamabad Expressway
50 minutes drive from M-2 Motorway
Total Land Area
For the Tab City Housing project, initially, an area of 15,000 Kanal is reserved for development purposes. An artistic master plan is already in the process which will soon be out by the management. The total land further divides into various blocks, including residential and commercial blocks. The development work is going at a fast pace and the buyers will be getting possession in the near future.
Tab City NOC
Tab City Rawalpindi comes under the jurisdiction of TMA (Tehsil Municipal Authority Rawalpindi) and RDA (Rawalpindi Development Authority). It has not yet applied for the No Objection Certificate and approval from the respective authorities. According to the Tab City management, they are soon starting the legal procedure from TMA and RDA, as acquiring NOC takes time. It is a lengthy process, as it takes many points to consider. However, the developers of the project assure the investors that they will soon clear the legal procedure and will get NOC from the authorities.
Tab City Master Plan
The master plan of Tab City comprises residential and commercial areas that will fully contain all the international standard facilities and state-of-the-art architecture. Moreover, the plan also includes special areas for green belts, family parks, wide roads, business centres, health care centres and so on. Also, the commercial areas will have all the required amenities including security and parking lots which ensures the smooth flow of businesses. Initially, only residential plots are developing.
Mustafa Block
The very first block that is launched by Tab City Rawalpindi, is Mustafa Block. It is officially inaugurated in the dealer authorization event which was held on 5th September 2022. During the event, various real estate companies were awarded authorized certificates. The Block is offering many residential plots in a number of sizes ranges too with a convenient instalment plan.
Residential and Commercial Plots
Plots of 5 Marla, 7 Marla, 10 Marla, and 1 Kanal are available in Tab City Rawalpindi. Soon there will be many plots for sale in Tab City. However, society has not presented the details of commercial plots. But it is launching soon. It is expected that Tab Builders are introducing 2 Marla and 4 Marla commercial plots initially.
Facilities Offered by Tab City
Tab City is a well-planned housing society which is furnished with various attractive features. The facilities it offers are explicitly designed to uplift your lifestyle. It not only keeps its own water resources but also an efficient 24/7 working electricity system ensuring uninterrupted water and power supply. In addition to this, it is presenting the services of health care, inns and lavish sports clubs in the closest proximity. Along with that, the elite framework of the society has a green and clean climate and continuous availability of utilities throughout the day. Moreover, the residential area contains many amusement options including its voguish theme park and well-organized sporting activities. Also, considering the necessity of residents, Tab City has allocated a specialized area for the graveyard. Society is in charge of providing all the essentials ensuring a better living for the people.[/vc_column_text]
Exclusive Features of Tab City
On-time Delivery
Tab Builders is a real estate company with a good reputation which ensures on-time delivery of the project to dealers and customers.
International Standard Construction
Tab Group is using international construction standards to ensure quality for the residents. Furthermore, they are practising IBC criteria, A+ quality construction materials, and earthquake-resistant construction.
Secure Community
Tab City is providing exclusive CCTV surveillance. In addition, there is a dedicated security team and a central security system which promises Tab City a secure community.
Eco-Friendly Environment
Tab Group pays special attention to providing an eco-friendly environment for the residents in the form of green belts, planting trees and greenery throughout the streets. In this way, they create a healthy and green environment for the residents.
Payment Plan
Tab City is offering property at reasonable prices. In addition, it provides a convenient instalment plan for the customers.
Following is the detailed payment plan:
The price of a 5-Marla plot in Tab City is approximately PKR 2,275,000.
The price of a 7-Marla plot in Tab City is approximately PKR 3,080,000.
The price of a 10-Marla plot in Tab City is approximately PKR 850,000.
While the price of a 1 Kanal plot in Tab City is approximately PKR 8,200,000.
You can book a plot with a 20% down payment. You can pay the rest of it in 36 monthly instalments.
Why Invest in Tab City Rawalpindi?
Tab City is a mega project of Tab Group. It offers the best investment opportunity as the project is in its initial stages and rates are quite reasonable. If you invest right now, you can get a high return on investment. Besides that, there are other several reasons to invest in Tab City which include:
Top-notch location of the project.
Provision of all basic amenities.
Residential and commercial plots are available at affordable prices.
Well admired developers.
A secured community offering high-level safety features.
A green and calm surrounding.
Numerous shopping malls.
Easy instalment plans.
International standard infrastructure.
The facility of hospitals.
Educational institutes in society.
Theme parks, and many other entertainment spots.
Well-maintained roads and streets.
Conclusion
Tab City Rawalpindi is the upcoming housing project in the twin cities. Moreover, a very competitive Tab Group governs the project which is making it an ideal investment. Furthermore, the location and affordable rates of the property are attracting investors. The project ensures world-class rewarding and luxurious facilities that will uplift your living standards. In the end, rbsland.com will provide you with the latest updates regarding this upcoming housing venture, so stay tuned.
[/vc_column][/vc_row]