March 6, 2023
Posted by:

Muhammad Shehzad

Category:

RBS News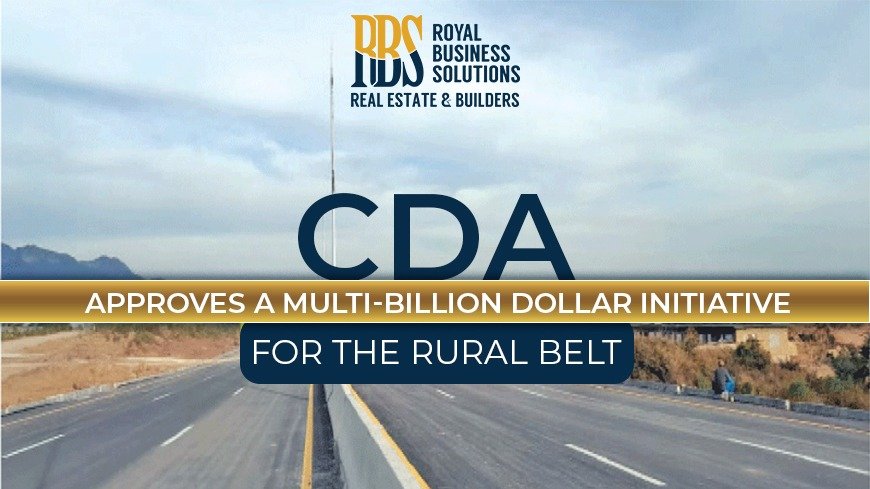 The Capital Development Authority (CDA) has created a PC-I for development work in rural parts of the federal capital, according to the most recent news sources. Further, the project will get a budget of Rs. 10 billion, which the Development Working Party will finalize (DWP). The news 'CDA approves a Multi-Billion Dollar Initiative for the Rural Belt' is very appreciative
Transforming lives in rural Islamabad: Access to clean water, sanitation, and healthcare
The project includes the provision of clean water, sanitary facilities, and healthcare facilities. This project intends to enhance infrastructure and services in Islamabad's rural districts. Further. The project will likely be funded by a combination of public and private funding, with the CDA taking the lead on planning and carrying it out.
Closing the urban-rural gap: CDA's initiative for development in Islamabad's rural districts
In a press conference, CDA Chairman Noorul Amin Mengal provided information on the project. He declared that the advancements in federal rural areas will "end the urban-rural gap". Moreover, he continued by saying that there have been conversations about whether the civic organization might implement development initiatives in Islamabad's rural regions. We concluded that the CDA could do so because it grants NOCs to housing societies. Also, it collects other taxes, the official said.
For luxury living in a secure environment with smart amenities, you can check Capital Smart City Status.
Building a better future for rural Islamabad: Two-year project to enhance essential infrastructure
According to the information provided, the project will take two years. All development will follow the goals for rural development indicated in the long-term plan. Moreover, the improvements will feature the essential infrastructural amenities needed in rural regions. Amenities like roads, clean drinking water, paved streets, and other necessities.
Revitalizing rural Islamabad: CDA's project to enhance services and infrastructure for a better tomorrow
The CDA's choice to accept the project comes due to the rising demand for growth in Pakistan's rural areas, where services and infrastructure have historically been insufficient. Further, the project might serve as a model for similar projects in other regions of the country. The project might be anticipated to have a significant influence on the lives of the rural inhabitants of Islamabad.
Renovating rural Islamabad: CDA's initiative to provide essential amenities for over 700,000 residents
The PC-I stated, "In most of the rural regions… water runs through existing kutcha (unpaved) streets which generates unclean situation/pollution in the vicinity; similarly, the existing roads, water supply, street pavement, and sanitation system are in terrible situations and require rapid repair. Further, according to CDA authorities, the initiative would provide over 700,000 rural residents with essential amenities including clean water, effective communication, and sanitation.
CDA's investment in rural Islamabad to meet the needs of underserved populations
Moreover, the project's implementation and long-term consequences on the local economy and ecology are still to be determined. Nevertheless, the CDA's choice to invest in the rural areas around the city is a step in the right direction toward meeting the needs of Islamabad's underserved populations.
For further updates on 'CDA Approves a Multi-Billion Dollar Initiative for the Rural Belt 'stay tuned to RBS.