March 8, 2023
Posted by:

Muhammad Shehzad

Category:

RBS News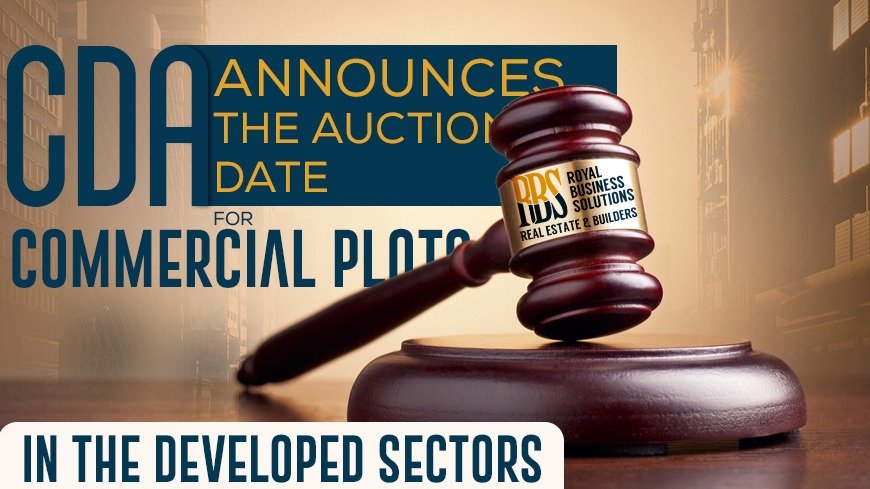 The dates for the upcoming commercial site auction in the development sector have been published by the Capital Development Authority (CDA), according to news sources. Further, on March 5, the relevant authorities published the auction voucher—which included the dates, protocol, location, and sizes of the commercial plots—in a newspaper. Moreover, the news regarding 'CDA announces the auction date for commercial plots in the developed sectors 'is good for investors.
 Unlock Your Investment Potential: Commercial Plots Sale by CDA on May 3-5 at Jinnah Convention Centre
Further, the CDA has announced that the commercial plots sale will take place at the Jinnah Convention Centre in Islamabad, according to the sources. Moreover, the commercial plots in several areas of the capital territory would be put up for auction on May 3, 4, and 5.
Secure Your Future with Legal Exemption: Invest in Commercial Plots at the Public Sale Today
Moreover, according to real estate professionals, the public sale of commercial plots is a must-avail investment opportunity for both local and foreign investors. Further, those participating in the sale can acquire plots with a legal exemption.
For better investment opportunities, you can check Lahore smart city.
Details about the commercial lots situated in the developed areas of capital city.
Marakaz
Agro farms
Petrol pumps
E-11 Northern Strip
Class-III Shopping Centre
Park Enclave Commercial
Blue Area E-11/F-11, Canopy side
Moreover, according to reports, the bidder who pays in full within 30 days of the bid acceptance letter will receive a 10% rebate on the remaining.
Further, a list of protocols is below:
The existence of a facilitation staff is essential for the support of investors.
The first installment will be 25% of the total bid value.
Moreover, the investors will make the first payment within 30 days after the acceptance of the bid.
Also, the CDA will collect advance tax on a pro-rata basis.
There are no charges for the site and the marketing offices.
Further, they will authorize the construction plans following the delivery of the initial installment.
Development work will begin after the submission of the full payment.
Further, details on the "flexible completion period for commercial plots" are also included in the advertisement:
Up to 1,000 yards: 3 years
Up to 3,000 yards: 4 years
More than 3,000 yards: 5 years
Moreover, from March 25 onward, the auction brochures are available at the CDA one-window directorate and a few Askari, UBL, HBL, MCB, and Bank of Punjab branches.
For further updates on 'The CDA announces the auction date for commercial plots in the developed sectors, keep visiting RBS.